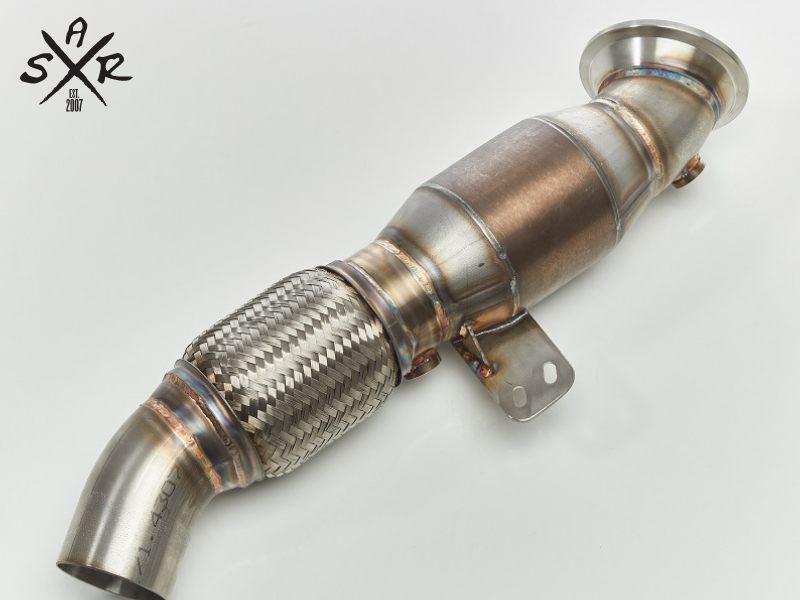 Downpipe for BMW B58
Original price
€980,00
-
Original price
€980,00
The BMW Downpipe B58 is the ultimate addition for all BMW drivers looking to get the most out of their B58 engine. This high-quality downpipe has been specially developed to optimize the performance and sound of your vehicle and to offer an unparalleled driving experience.
Manufactured from high-quality stainless steel, the BMW downpipe B58 offers improved exhaust gas routing and reduced back pressure. This allows for optimized power delivery and an impressive increase in torque. Improved exhaust flow also minimizes turbo lag and lag, resulting in improved throttle response and increased acceleration.
Another advantage of the BMW downpipe B58 is the unmistakable and sporty sound it gives your vehicle. The special construction ensures a deeper and more aggressive exhaust sound that pleases the ears of every motorsport enthusiast. Experience the fulfilling feeling as your engine comes to life with every puff of gas and a powerful sound emerges from the exhaust.
The installation of the BMW downpipe B58 is easy and hassle-free. It perfectly matches the original exhaust system of your BMW vehicle and requires no additional modifications. The kit comes with all the necessary mounting hardware, so you can easily install it at home or at a professional workshop. Detailed instructions are included to make the installation process as easy as possible for you.
Increase the performance and sound of your BMW vehicle with the BMW downpipe B58. Enjoy an enhanced driving experience and let your engine roar with every gas blast. Order today and take your BMW to the next level of performance.