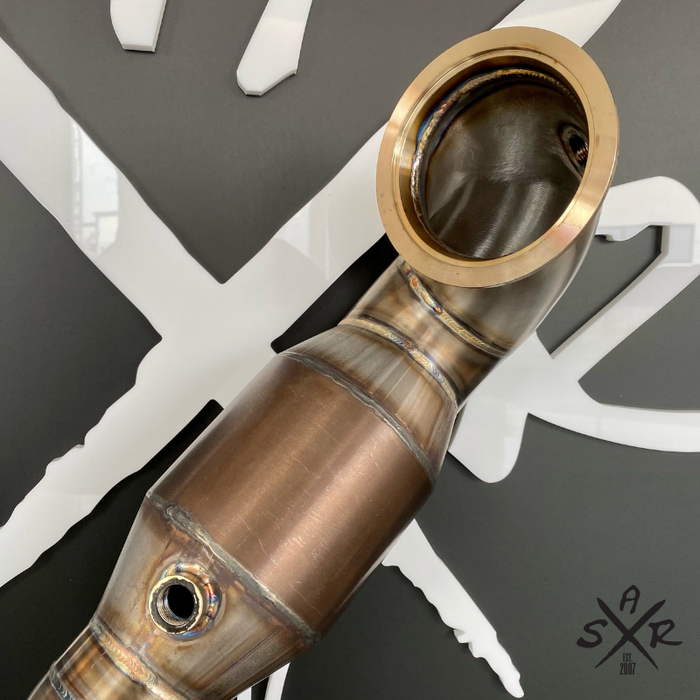 Downpipe VW Golf 8 GTI / Clubsport / R / Audi S3 8Y
Original price
€1.100,00
-
Original price
€1.200,00
Downpipe with Sport Kat from SAR-Turbotechnik for the following vehicles:
VW Golf 8 GTI / GTI Clubsport / R

Audi S3 8Y
Scope of delivery
1x downpipe with 100 CPSI cat

1x connecting tube
Technical specifications
Tube diameter: 76mm

plug and play
A software adjustment is recommended, which can also be carried out in our house.
Installation + tuning on our in-house test bench is of course possible
Our self-produced downpipes are handcrafted in-house from high-quality stainless steel. It not only gives your car a nicer sound, but also better performance. In addition, in the case of turbocharged models in particular, care is taken to ensure that the downpipe produces less back pressure, delivers more throughput and sounds better.
When ordering, please be sure to state for which vehicle the DP is required so that we can supply the correct connecting pipe.
It is expressly pointed out that the downpipe is only approved for motorsport and not for road traffic.