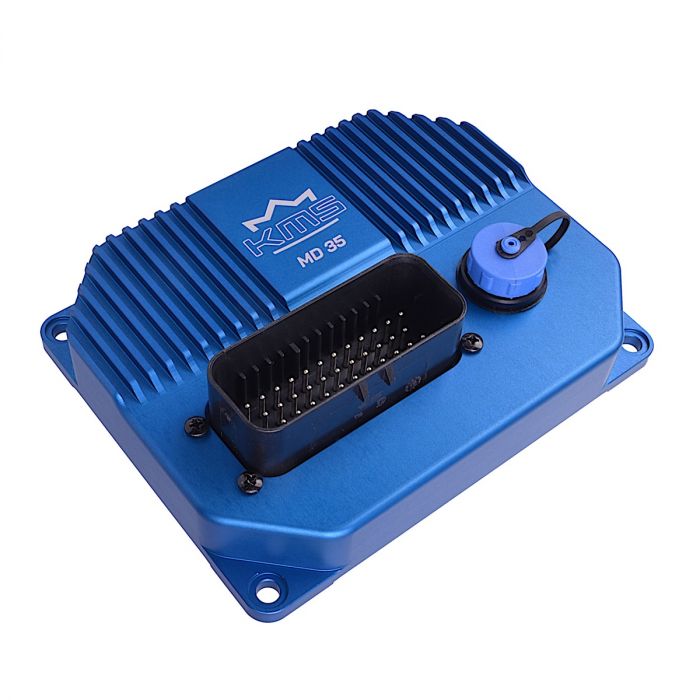 MD35 control unit
Original price
€1.200,00
-
Original price
€1.200,00
KMS offers everything you need to install your new KMS control unit. This includes in particular prepared wiring harnesses for most engine concepts, sensors, adapters, plans and custom-made products. If you can't find what you're looking for, or need help choosing the right setup for your project, simply contact us and we'll be happy to help.

Top-class motor control

Features:
- Complete engine control for up to 12 cylinders
- Dual self-learning lambda control in connection with the UEGO CAN controller
- Surplus firing angles
- Direct ignition in combination with a camshaft sensor
- Inductive / Hall crankshaft pick-up
- Staged / simultaneous injection
- Map selection
- Engine diagnostics
- Short-circuit protected outputs
- 38 channel 4MB data recording
- Dual processor technology
- Water repellent
- Gold-plated connectors
- USB interface
- CAN communication (for extra inputs/outputs)
- 2 engine load sensors
- 3 analog inputs (2nd lambda value, gear, etc.)
- 3 auxiliary outputs (shift light, water injection, fan, etc.)
- speed limiter (variable)
- rev limiter
- ALS (variable)
- Powershift (individually adjustable for each gear)
- Boost pressure control (gear, speed and time dependent)
- Launch Control (variable and delay possible)
- idle control
- 4 speed signals from the KMS speed sensor -> CAN 4-channel converter
- Traction control

The scope of delivery includes the main connector, a data cable, software and instructions.